Have you heard the awesome news? Author Dawn Crandall's debut novel, The Hesitant Heiress, is the first of her series to release in PAPERBACK! The series is so popular in eBook form, readers and fans are having their request granted this year for the whole series to release in paperback (Yay for me! I'm a huge fan). The first book released on September 8th, and Dawn is celebrating with all sorts of fun giveaways.
In this post, I'm sharing the exciting release info, an favorite excerpt chosen by Dawn, and the giveaway info.
If you missed them, see my review of The Hesitant Heiress  and an interview with Dawn here, and my post about the whole series here. The Hesitant Heiress is the 2015 winner of the Gayle Wilson Award of Excellence, a 2013 semi-finalist in the ACFW Genesis Awards, and a 2015 finalist in the ACFW Carol Awards.
A note from Whitaker House publishers: The three books consisting of Crandall's award winning eBook series written from first person point of view officially begin to release in paperback this Fall. Set in 1890s among New England's upper crust, the series features a host of colorful characters whose adventures intertwine from book to book.
The first in the series, The Hesistant Heiress, will release September 8, 2015, and is filled with suspense and intrigue centered on heroine Amaryllis Brigham who is poised to inherit a fortune—if she marries within a year.
Book 2, the The Bound Heart releases in paperback on October 6, 2015 and Book 3, The Captive Imposter, on November 3, 2015. The first two series books of The Everstone Chronicles were semifinalists and The Captive Imposter a finalist in ACFW's Genesis Writing Contest for unpublished writers before the manuscripts were contracted through Whitaker House.
These books are definitely going to be on my Christmas list this year! *hint hint*
An Excerpt from Dawn: Now, I get to share an excerpt from The Hesitant Heiress that is one of Dawn's favorite passages!!! It happens to include my FAVORITE quote, too, about Amaryllis' piano playing! Enjoy!
From Chapter 19 of The Hesitant Heiress by Dawn Crandall~
My heart skipped at the thought of how easy it was for Nathan to win everyone's favor without trying.
Even mine.
Just as I was about to turn in search of Meredyth, Nathan turned around and looked directly at me, as if he'd been watching for me. He said something quickly to Dr. Wellesley, then stepped down from the stage and started walking up the aisle in my direction.
I turned around and headed up a nearby staircase.
As I hurried through the upper hall, I heard him coming up the stairs two or three steps at a time and knew my flight was pointless. Still, I made it to my favorite music room, my "office," at the far end of the hall and closed the door behind me, wishing the small rooms had locks on them, or that I knew where Meredyth was hiding.
I sat down at the piano, which almost filled the tiny room, and dove right into playing my favorite part of Chopin's Raindrop as loudly as I possibly could. I knew Nathan would eventually find me, anyway. I also knew perfectly well the reason I was so afraid of seeing him face-to-face and alone. He had an odd way of always knowing what I was thinking, and I could not allow him to read my heart.
Not considering how I felt about him.
The music room door finally creaked slowly open. He stood, leaning against the doorjamb, watching me, until I came to a good place to stop. "What are you doing here?" I asked, still sitting at the piano, staring at the keys.
"I came to see you."
He'd barely said a single thing to me in the last few weeks of attending the same social functions, so that was definitely not what I'd expected to hear. I'd actually resigned myself to the belief that the game between us was most definitely over. He'd won, and we both knew it.
"You knew I would be here?" I stood, my fingers nervously fiddling with the keys of the seventh octave, my eyes still glued to the piano.
He moved into the room. "I wanted to tell you that I'll be traveling to Bangor during the next week or so; my father is selling one of his hotels and wants Will and I to be there. I've already told Claudine. Both Lawry and Garrett are coming with me. From what I gather, Claudine's already preparing to take you up to Maine for the summer, and you'll likely be there by the time we're finished taking care of business."
"Oh, you know all that, do you?" I pretended not to be too interested.
He stepped forward, resting his left hand on the first octave. As he stepped closer, his fingers trailed loudly along the keys until they reached mine. He took hold of my hand and held it between us.
"I've noticed for a while now, Amaryllis, that your heightened frustrations can be accurately measured by the passion with which you play the piano. Your piano playing has become alarmingly turbulent as the months have gone by." He smiled down at me, caressing my palm with his thumb. "Not once have you played anything as calm and relaxing as Beethoven's Moonlight Sonata since the night of Claudine's dinner party back in March."
"And I suppose you think there's some lesson for me to learn by such an observation?" I finally allowed my eyes to meet his. My breath caught in my lungs—he stood so stoically, so seriously. Oh, why wouldn't he simply leave me alone?
"That there is." He took a step forward, backing me to the window, keeping hold of my hand—as if I truly wanted to get away. "The very same lesson I've been trying to get through to you for months now."
He stood there a moment, staring down at me, before letting go of my hand and reaching into his coat. He produced a small white envelope sealed with a red wax letter E . He held it before my face with two fingers, brushing the edge of it against the bridge of my nose.
I cautiously took it from him.
He leaned in, his eyes clearly focused on my mouth. I held my breath as he bent even closer and whispered next to my ear, "Be prepared, Amaryllis, for those fewer words…since that is what you seem to want so badly."
I ❤ this book! Doesn't this make you want to read it NOW!?
The giveaways: FIVE paperback copies in a Rafflecopter giveaway (click to enter), and 5 paperback copies in a Goodreads giveaway (enter below).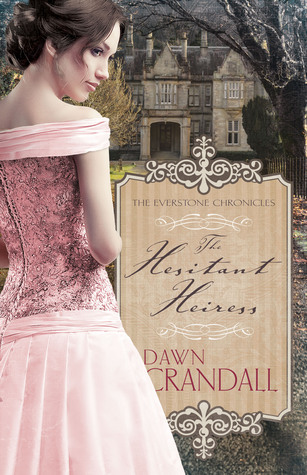 Good luck with your giveaway entries and thanks for visiting!